Troll Wilderness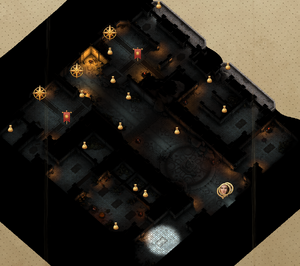 "These are the ruins of an ancient dwarven fortress, built near a similarly ancient trade route. Dwarves have always been known for their sturdy construction, so even after being abandoned, this fortress has endured the pressure of time and seems to still be mostly intact. Trolls and kobolds now inhabit the abandoned halls, breaking ancient relics and designing their new "home" to their own taste."
Notes:
This location is named Dwarven Ruins before investigating it.
Disc puzzles

Moon disc to fish rune sign, Sun disc S rune sign to open a floor panel in the classroom with sun/moon.
...
...
Kobold Sniper x6 (one of these on the second floor has the same statistics and equipment but is labeled as Kobold instead)
Leather Armor x5
Silver Ring x2
Copper Ring x1
Jade x1
Turqoise x1
Black Whip x1
Gold Coins x79
Masterwork Light Crossbow x3
Citrine x1
Pearl x2
Agate x1
Gold Coins x17
Kobold Alchemist (Alchemist 5)
Leather Armor x1
Light Crossbow x1
Gold Coins x18
Trollhound x32
Troll x17
Jade x6
Agate x3
Citrine x2
Clear Quartz x3
Silver Ring x2
Copper Ring x1
Turquoise x2
Pearl x1
Gold Coins x96
Branded Troll x14
Copper Ring x4
Citrine x4
Pearl x2
Silver Ring x4
Clear Quartz x1
Jade x1
Scroll of Cure Light Wounds x12
Green Quartz x1
Potion of Cure Moderate Wounds x1
Agate x1
Gold Coins x55
Tenderloin x2
Trollhound Hide x1 ([Lore (Nature) 23])
Citrine x1
Gold Coins x15
Scalemail x1
Pearl x1
Citrine x1
Potion of Cure Light Wounds x1
Trollhound Hide x1 ([Lore (Nature) 18])
Padded Armor x5
Shortbow x5
Agate x1
Pearl x2
Copper Ring x1
Gold Coins x12
Mimic x2
Masterwork Light Crossbow x1
Gold Coins x48
Leather Armor x1
Masterwork Light Crossbow x1
Gold Coins x14
Masterwork Light Crossbow x1
Pearl x1
Jade x1
Scroll of Cure Serious Wounds x1
Branch (requires [Perception 7] check to notice):
Barrel:
Citrine x2
Silver Ring x1
Gold Coins x26
Crate:
Crate:
Chest (requires [Trickery 18] check to unlock):
Chest (requires Old Dwarven Chest Key to unlock):
Chest:
Mushrooms:
Chest:
Hidden Tile (requires [Perception 18] check to notice):
Satchel:
Sack (requires [Perception 7] check to notice):
Peridot x1
Exquisite Pearl x1
Honey x1
Trout x3
Gold Coins x25
Chest (in secret room next to kobold artist)::
Pile of Trash: (requires [Perception 7] check to notice, [Trickery 5] check to unlock, hidden in secret room next to kobold artist):
Gold Ring x1
Silver Ring x1
Gold Coins x50
Hidden Compartment (requires [Perception 14] check to notice, [Trickery 21] check to unlock, hidden in secret room next to kobold artist):
Agate x3
Green Quartz x3
Agate x7
Gold Coins x371
Hidden Compartment (requires [Perception 18] check to notice:
Chest:
Copper Ring x1
Pearl x2
Green Quartz x1
Bloodstone x1
Turquoise x1
Gold Coins x25
Hidden Tile (requires [Perception 20] check to notice, trapped with [Perception 22] [Trickery 22] trap):
Edible Moss:
Hidden Shelf (requires [Perception 18] check to notice, [Trickery 17] check to unlock):
Chest (requires [Trickery 18] check to unlock):
Gold Ring x1
Jade x1
Moonstone x1
Camping supplies and rations x1
Chest (requires [Trickery 18] check to unlock):
Chest:
Silver Ring x1
Gold Coins x110
Corpse:
Edible Moss:
Chest:
Chest (requires [Perception 20] check to notice):
Gold Ring x1
Potion of Cure Light Wounds x12
Hidden Tile (requires [Perception 16] check to notice)
Pearl x14
Exquisite Pearl x1
Debris:
Slab of Stone:
Chest:
Chest:
Potion of Cure Light Wounds x3
Clear Quartz x1
Gold Coins x21
Chest:
Green Quartz x3
Turquoise x2
Gold Coins x32
Hidden Compartment (requires [Perception 16] check to notice, [Trickery 16] check to unlock):
Gold Ring x1
Exquisite Pearl x1
Scroll of Acid Arrow x2
Rubble:
Chest:
Agate x4
Turquoise x2
Tuskwater Oyster x3
Silver Ring x1
Chest (requires [Trickery 23] check to unlock):
Hidden Compartment (requires [Perception 21] check to notice, trapped with [Perception 22] [Trickery 22] trap):
Mushrooms:
Chest (must have solved rune puzzles on the first floor):
Chest (requires [Trickery 23] check to unlock):
Potion of Cure Moderate Wounds x1
Clear Quartz x1
Gold Coins x48
Satchel (requires [Perception 16] check to notice):
Chest (requires the Old Dwarven Chest Key to open):
Potion of Cure Moderate Wounds x1
Rubble (requires [Perception 7 check to notice):
Rubble (requires [Perception 7] check to notice):
Mushrooms:
Chest:
Moonstone x1
Gold Coins x65
Chest:
Silver Ring x1
Jasper x1
Citrine x1
Satchel:
Chest:
Chest:
Citrine x2
Bloodstone x1
Gold Coins x12
Chest:
Chest:
Chest (requires [Trickery 16] check to unlock):
Scroll of Cure Serious Wounds x1
Barrel (requires [Perception 0] check to notice):
Chest:
Chest (requires [Trickery 19] check to open):
Scroll of Cure Serious Wounds x1
Chest (requires Trickery 21] check to unlock):
Hidden Compartment (requires [Perception 16] check to notice):
Moonstone x1
Potion of Cure Moderate Wounds x2
Chest (trapped with [Perception 22] [Trickery 22] trap):
Chest (requires [Trickery 14] check to unlock):
Potion of Shield of Faith x2
Scroll of Scorching Ray x2
Gold Coins x53