Collapsed Passage
Collapsed Passage is a location in Pathfinder: Kingmaker.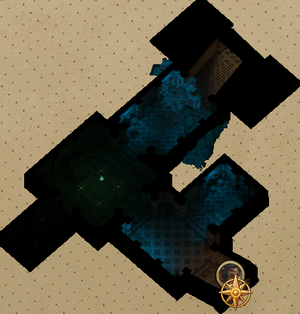 ''A narrow underground passage, collapsed years ago. It still seems possible to squeeze through it, but who knows what awaits inside.''
There's a trap, that channels negative energy in the room forward from the entrance. Press four plates (Trickery 30 each) around the trap to disable it. But before going there, pass Perception 25 check to the right of the entrance to find "Strange Mechanism" in the wall. Trickery 32 to disable it - this prevents a gas trap from activating at the beginning of the fight.